Summary
Symbol: EVX

Crowdsale opening date: 24 July 2017

Crowdsale closing date: 30 Aug 2017

Platform for Fundraiser: Ethereum

Country of Incorporation: Singapore
Introduction
EVEREX is a young technology startup in the blockchain space with both a team and a business-model uniquely qualified to answer some of the challenges of international micro-financing. Everex focuses on easing the financial inclusion problem by applying blockchain technology for cross-border remittance, online payment, currency exchange and micro-lending, without the volatility issues of existing, non-stable coin cryptocurrencies. 
My View
Earlier, Everex twitter account was hacked and a fake Ethereum address was put, thanks to their prompt action the account was frozen. And thanks to the proactive involvement of Everex team members, notably "Juan Manuel Dominguez" (24/7), the ICO investors were helped and all their queries answered. This goes onto show how much prepared this team is. Not only raising capital but also engaging and helping prevent against phishing and hacks showing reliable professionalism and commitment. Their architecture was one of most practical, mature and grounded Ethereum-based architecture till now. Also, cross border remittance and micro-lending is one of the hottest use cases where the impact of Ethereum blockchain as a platform can be huge. 
Value Proposition for Investors 
Despite the volatility in ETH and risks related to participating in ICO, this platform is a promising platform as they already have mature products in their portfolio and have a good track record in working on Ethereum platform. Even they are planning to list this token within 3 weeks of the token sale in prominent exchanges. Apart from the speculative value, they have a very good usability of tokens in their platform. With a better track record and a promising team, I am sure this will be a good investment for any ICO investor. 
Tokensale
Note: Only invest in the ICO through the below link and do not invest via any other ETH address.
The EVX token sale is happening between July 24, 2017, to 30 Aug 2017 and will come to an end as soon as 70000 Ether have been raised. 
During the sale, EVX will be offered in 5 price tiers: 
Tier 1, starting on July 24, at 09:00 am GMT 1 Ether will buy you 250 EVX.

 

Tier 2, starting on July 27, at 09:00 am GMT 1 Ether will buy you 225 EVX.

 

Tier 3, starting on August 3, at 09:00 am GMT 1 Ether will buy you 200 EVX.

 

Tier 4, starting on August 10, at 09:00 am GMT 1 Ether will buy you 190 EVX.

 

Tier 5 starting on August 17, at 09:00 am GMT 1 Ether will buy you 180 EVX.

 

The sale period will not exceed beyond August 31, at 08:59 am GMT.
To know more about the token sale and the allocation funds and vesting schedule, please refer to the below link.
The EVX Token Sale Starts NOW!
Token Usage
The EVX token has many utility functions on the Everex remittance and micro-credit platform: 
Membership – Proof of EVX ownership will be required to access advanced features, such as immediate on demand credit. 
Tradable Credit Scores & Collateral – Accumulation of EVX will allow users to improve their credit score. Also, EVX will be accepted as collateral to access credit at lower interest rates. 
Incentive Mechanism -Loans paid back in time will reward users with an EVX bonus, adding to a credit scoring. 
Buyback – If profitable with the surplus they will launch quarterly buy backs EVX will be purchased at market price. 
Analysis
Problem
Existing money transfer systems suffer from long lines, exchange rate losses, counter-party risks, bureaucracy and extensive paperwork. Also, there is a huge population without access to bank accounts, thereby excluding them from basic and daily services such as payments, remittances and access to credit. 
Solution
They are trying to focus on solving the financial inclusion problem by applying blockchain technology for cross-border remittances, online payments, currency exchange and micro-lending using Cryptocash, without the volatility issues of existing, non-stable coin cryptocurrencies. 
Users can convert their paper, or digital fiat-currencies to Cryptocash at their local bank branch, or at currency exchanges and transfer them via a blockchain Peer-to-Peer (P2P) (Ethereum), using wallets kept on mobile phones, or online browsers. For lending, as part of our internal reward system, EVX tokens are used to improve the user-credit score by rewarding both the borrowers for paying back their loan in grace period and to lenders as a reward for their risk in addition to the paid interest rates. 
For Everex Capital Transfer System, they use an Agent-Oriented Modeling (AOM) method through which lending, payment and remittances services of the Everex system are provided within a desirable response time. Everex does not operate on the basis of P2P loans and instead invests its own aggregated capital to provide globally accessible credit services.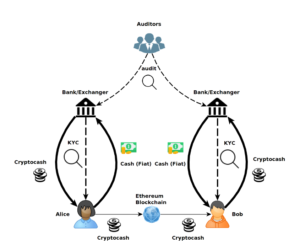 Platform
Application & Technology
In Everex, the capital transfer system is the lending system provided beside the remittance, payment and currency-exchange functionalities. 
The following key components make the Everex Distributed Application Architecture: 
Core
Everex hosts its own Ethereum blockchain service nodes to provide the services of its capital transfer system such as creation, reading and confirmation of transactions as well as management of the Everex smart contracts that control the Cryptocash tokens. 
Wallet
Wallets are stored on the blockchain, whereas user data is stored in a database inside the Account Management component. 
Services
The Everex-Services component comprises all services provided by the capital transfer system. Services and user interactions that trigger, or create blockchain transactions are also handled by this component that interacts with the blockchains using ports and interfaces. 
Account Management
The Account Management component is utilized to authenticate users and manage resulting transactions that are logged on the blockchain. 
The Ethereum-Parser application is used to index and track all Cryptocash transactions on the Ethereum blockchain and store them in the database component. The parsed information is used for the billing of Everex services and the calculation of credit scores of borrowers. 
Remittance
In the context of the remittance component, this includes identifying and authenticating the sender and receiver, selecting a currency for the remittance process as well as preparing all information for the transaction triggered by the remittance process. 
Lending
The Init-Lending component corresponds to the preparatory stage of the lifecycle of a micro lending contract. The negotiation stage of the micro-lending contract maps to the functionalities provided by the contract-negotiation component. Lender and borrower negotiate the loan conditions based on the specification of the loan requested by the borrower and the credit-scoring results. 
Credit Scoring
The credit-scoring component calculates a credit score of the borrower based on information available to the lender. 
Roadmap
2016: Validation and Plot  
Scope: 100 migrant workers, 850,000 Crypto THB Successful transfers confirmed between Thailand and Myanmar (eqv. $24,000) 
2017: Q2 Strategy and Planning  
Legal structure and framework

 

Strategic Partnerships

 

Marketing and PR

 

Establish EVX community Advisory Board Selection

 

Token Sale Platform development and testing

 

Development of EVX token

 
2017: Q3 – Open for Business 
Regulatory Framework Compliance Execution Plan

 

License Application for lending and currency exchange

 

Establish Partnerships with banks and Liquidity Providers

 

Token Sale Event, listing EVX on exchanges

 

Talent Recruitment for Key positions

 

Product Portfolio Roadmap Execution Plan Official Launch of Myanmar, Russia and Thailand Markets

 

EVX community development

 
2018: Q1 – Product / Markets Grid  
Launch of Remittance and Micro-lending in 3 Asian markets

 

New product features validation and integration

 

Commercialization campaign of cryptocash for business growth opportunities in the Middle East and Europe

 

Sales and Marketing Campaign Strategy

 

Regulatory Framework Compliance

 

Secure Technical Partnerships

 

First quarterly EVX token buy back

 
2018: Q2 – Product/Markets Expansion Grid 
Launch New Markets Middle East

 

Market-Specific Sales and Marketing Campaigns

 

Business growth opportunities in mature markets: Europe/US

 

Business growth opportunities in emerging markets: China, India, SA

 

Strengthened Regulatory Framework Compliance

 

Establish hardware partnerships

 

Establish easy cash in/out network in selected markets

 

B2B Expansion Strategy

 

Quarterly token buyback

 
2018: Q4 – Business Growth  
Launch of key mature and emerging markets

 

Strengthened EVX Community

 

Product Portfolio Expansion

 

CrowdLending

 

CrowdInsurance

 

Cryptocash Crowdfunding

 

Blockchain B2B consulting

 

Quarterly token buyback

 
Team
Alexi Lane – CEO, Founder

Alexander Kakunov – CTO, Co-founder

Jean-Baptiste Decorzent – Inclusive Finance Director

Anton Dzyatkovskii – Microlending Director

Artem Kolesnikov – Lead Engineer

Anastasia Khizhnyakova – Marketing

Dimitriy Karpenko – Country Representative, Russia

Harry Ye Kyaw – Country Representative, MM

Jacquiline Romorosa – Business Analyst
Conclusion
Their architecture is well grounded and they have a host of open source products like Ethplorer, Chainy, Everex wallet and Crypto Cash in their portfolio. They are an early starter in the Ethereum platform and have done limited pilot for cross border remittance in Thailand & Myanmar, they have a better understanding of the challenges that their product may face and hence they have a better business plan taking the challenges of a Blockchain and cryptocurrency based solution to the masses. 
But there are challenges regarding security and Ethereum being still an evolving platform having issues in transaction scaling. Given the fact that the whole lending process in not completely Peer-to-Peer, their significant human interaction is required at the sale endpoints. The involvement of representatives to collect and help with remittances limits the full power of Blockchain to the masses. However, on the upside, these services bring the much-needed speed in micro-lending and remittance which are still non-existent in some geographies. It remains to be seen with their multi-pronged offerings how they can compete in the market where already Transferwise, Ripple and Currency Cloud are some big players though the market and opportunity for them is huge. 
References
Disclaimer: This is not investment or trading advice, always do your own independent research.